Easily-disinfected cuffs are low-cost alternative to traditional durable cuffs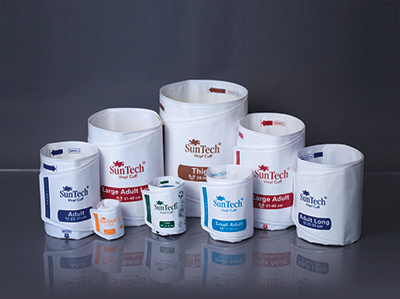 Morrisville, NC (03/13/2014) – New Vinyl Blood Pressure Cuffs from SunTech Medical® deliver accurate blood pressure (BP) readings while providing an economical alternative to traditional durable blood pressure cuffs. Designed for short-term use, these easily-cleaned cuffs work with automated BP monitors in clinical areas such as hospital emergency rooms and EMS transport where disinfection is critical.
SunTech's Vinyl BP Cuffs feature a tapered end for easier application and patient comfort, as well as color coding to simplify size selection. Different than traditional products, these new cuffs feature size indicators on both the interior and exterior of the cuff to ensure the accurate size cuff is selected, a critical step in accurately measuring BP. Engineered to meet AHA, AAMI-SP10 and MDD guidelines, Vinyl BP Cuffs are also latex-free to promote patient safety.
For more information on SunTech Medical's full line of clinical-grade, non-invasive blood pressure products and technologies, call 1.800.421.8626 or visit www.suntechmed.com.