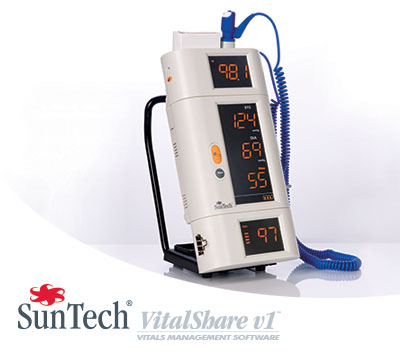 Morrisville, NC (05/30/2014) --(BUSINESS WIRE)-- Integrating the Healthcare Enterprise's® (IHE's) Patient Care Device (PCD) Domain will feature an interoperability demonstration at the annual Association for the Advancement of Medical Instrumentation (AAMI) 2014 Conference & Expo, May 31 – June 2 in Philadelphia, PA. As part of this demonstration, SunTech Medical will show how their VitalShare software and 247 BP+Vitals spot check device share information using industry-standard integration protocols. This interoperability demonstration will take place throughout the AAMI conference in booth #108 and is sponsored by AAMI, the American College of Clinical Engineering (ACCE) and the Healthcare Information and Management Systems Society (HIMSS).
IHE is an initiative to create a standards-based framework for passing vital health information seamlessly within and across multiple healthcare enterprises — from application to application, system to system, and setting to setting. Systems that support IHE Integration Profiles work together better, are easier to implement, and help care providers use information more effectively.
About the IHE PCD Domain
The IHE PCD, cosponsored by AAMI, ACCE and HIMSS, develops standards-based communication providing interoperability between various medical devices and the systems with which they communicate, such as EMRs and CMMSs. The PCD is concerned with Use Cases in which at least one Actor (sending or receiving function) is a regulated patient care device.
Learn more about the PCD at http://www.ihe.net/Technical_Framework/index.cfm#pcd. To inquire about developing products that comply with PCD standards, learn more about specifications and purchasing of conforming products including a list of products that conform to IHE technical requirements, contact This email address is being protected from spambots. You need JavaScript enabled to view it..
For more information on SunTech Medical's full line of clinical-grade, non-invasive blood pressure products and technologies, call 1.800.421.8626 or visit www.suntechmed.com.
SunTech Medical, a Halma company, has been the preeminent supplier of clinical grade blood pressure monitoring products and technologies for nearly 30 years. More than 80 companies trust SunTech Medical's OEM non-invasive blood pressure solutions for their patient monitoring needs. SunTech Medical produces the leading cardiac stress test blood pressure monitor and is the world's foremost manufacturer of ambulatory blood pressure monitoring products. SunTech Medical also offers solutions for in-office blood pressure monitoring as well as a complete line of blood pressure cuffs designed for general and specific applications.
Press contact:
Elliott Holloway
Marketing and Communications Manager
SunTech Medical Inc.
507 Airport Boulevard
Suite 117
Morrisville, NC
Tel.: 1-919-654-2366
Fax: 1-919-654-2301
E-Mail: This email address is being protected from spambots. You need JavaScript enabled to view it.
Website: www.suntechmed.com