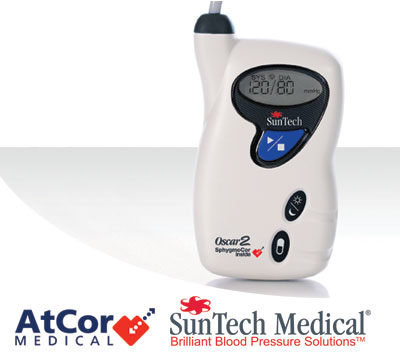 Morrisville, NC (06/17/2014) – SunTech Medical and AtCor Medical, the two most trusted names in blood pressure (BP) measurement technology, announce the development of the new SunTech Oscar 2 Ambulatory Blood Pressure Monitor (ABPM) with SphygmoCor Inside. Specifically designed to measure central aortic BP in an ambulatory study, this new product incorporates AtCor's globally-recognized Gold Standard SphygmoCor technology into SunTech Medical's Oscar 2 ABPM system, creating a patient-focused solution with unequaled comfort and data reliability.
AtCor's SphygmoCor technology, backed by more than 800 published clinical studies, provides the most detailed data available in the industry, including fully-featured physiological waveforms. SunTech's proprietary motion-tolerance technology and the patented Orbit cuff's patient-focused design helps ensure more accurate readings and fewer repeated studies.
Attendees at this year's European Society of Hypertension (ESH) and International Society of Hypertension (ISH) Joint Meeting from June 12-16 in Athens, Greece were able to view this new innovative product which will be available to the market in early Fall, 2014
Get More Information About Oscar 2 with SphygmoCor Inside
For more information on SunTech Medical's full line of clinical-grade, non-invasive blood pressure products and technologies, call 1.800.421.8626 or visit www.suntechmed.com.
SunTech Medical, a Halma company, has been the preeminent supplier of clinical grade blood pressure monitoring products and technologies for nearly 30 years. More than 80 companies trust SunTech Medical's OEM non-invasive blood pressure solutions for their patient monitoring needs. SunTech Medical produces the leading cardiac stress test blood pressure monitor and is the world's foremost manufacturer of ambulatory blood pressure monitoring products. SunTech Medical also offers solutions for in-office blood pressure monitoring as well as a complete line of blood pressure cuffs designed for general and specific applications.
AtCor Medical develops and markets products for the early detection of cardiovascular risk and management of cardiovascular disease. Its technology allows researchers and clinicians to measure central blood pressure non-invasively. The company's SphygmoCor® system visibly identifies the effects of reflected blood pressure in the central aortic pressure wave, effects which cannot be detected with standard blood pressure monitoring. More than 3,400 SphygmoCor® systems are currently in use worldwide at major medical institutions, research institutions and in various clinical trials with leading pharmaceutical companies, and the company's technology have been featured in over 700 peer-reviewed studies published in leading medical journals. AtCor has operations in Australia, the United States, and Europe. For further information, please visit our web site at www.atcormedical.com
Press contact:
Elliott Holloway
Marketing and Communications Manager
SunTech Medical Inc.
507 Airport Boulevard
Suite 117
Morrisville, NC
Tel.: 1-919-654-2366
Fax: 1-919-654-2301
E-Mail: This email address is being protected from spambots. You need JavaScript enabled to view it.
Website: www.suntechmed.com