Partner Update: RDT Completes Successful African Study with Tempus Pro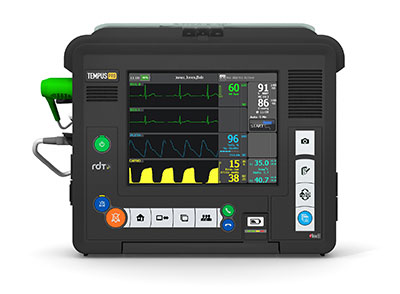 06 March 2014, SunTech Medical partner, Remote Diagnostics Technologies Ltd (RDT), recently collaborated with International SOS, a leading medical and travel security services company, to demonstrate the Tempus Pro vital signs monitor operating in real life situations under rugged and austere conditions. The study was successfully performed over a six-week period in Algeria and Nigeria.
Tempus Pro is light enough to carry to the patient, small enough to hold in one hand and rugged enough to deploy in any situation. It incorporates all the integrated features and capabilities expected in vital signs monitors, including SunTech Medical Advantage non-invasive blood pressure utilizing our unparalleled Transport Motion Tolerant Technology (TMT). The Tempus Pro also easily documents and shares patient data electronically to ensure that care providers have accurate information on patient injuries, therapies, trending vital signs, and drugs and fluids that can then be handed over, or sent ahead via ReachBak over various communication platforms, including GSM (3G), GPS, WiFi, Bluetooth, Ethernet and available VSAT facilities.
"Initially, participants were slightly skeptical of the idea of telemedicine," observed Arnaud Derossi of International SOS. "However, they were quickly won over by the Tempus Pro. By the end of the six-week period, they were extremely positive about the possibilities it offers. The key to the unit's success is that it is a fully functional, hospital-grade vital signs monitor. On top of that, it offers very useful communications facilities."
"We have been working with SunTech Medical for many years and on various products. The successful demonstration with International SOS in Algeria and Nigeria over the 6 week period further highlights the market leading technology available from RDT and SunTech Medical that has gone in to the development of Tempus Pro. We are very pleased with the outcome of the study and with SunTech's non-invasive blood pressure solutions" says Mark Williams, RDT's Integration and Applications Manager.
For more information on SunTech Medical's emergency transport and military capabilities or our full line of clinical-grade NIBP products and technologies, call 1.800.421.8626, email This email address is being protected from spambots. You need JavaScript enabled to view it. or visit "www.suntechmed.com/oem-nibp-technologies."
About Remote Diagnostic Technologies Ltd (RDT)
A successful global medical device business founded in 1997, RDT are recognised as leaders in the design and manufacture of pre-hospital care vital signs monitors. Specialist technologies include compact and highly integrated vital signs monitors for medical professional, intermittent and non-medically trained users that are widely used in aviation, maritime, exploration, pre-hospital and military environments.
RDT's robust communications technology enables the simultaneous transmission of medical data, voice and video from remote and otherwise isolated locations – such as in-flight and at sea - to land-based medical experts.
Operating for more than 15 years in remote medicine with a proven track record, RDT has established a reputation for reliability and excellent customer service while continuing to push boundaries with its state of the art engineering and design capabilities.
RDT's impressive international customer base includes the military, pre-hospital care providers, oil & gas companies, commercial airlines, Fortune 500 companies, commercial shippers, luxury yachts & business aviation clients.
About SunTech Medical:
SunTech Medical, a Halma company, has been the preeminent supplier of clinical grade blood pressure monitoring products and technologies for nearly 30 years. Over 80 companies trust SunTech Medical's OEM non-invasive blood pressure solutions for their patient monitoring needs. SunTech Medical produces the leading cardiac stress test blood pressure monitor and is the world's foremost manufacturer of ambulatory blood pressure monitoring products. SunTech Medical also offers solutions for in-office blood pressure monitoring as well as a complete line of blood pressure cuffs designed for general and specific applications.
For more information on SunTech Medical's full line of clinical-grade non-invasive blood pressure products and technologies, call 1.800.421.8626 or visit www.suntechmed.com.
Reprint free of charge, please forward a copy.
Press contact:
Elliott Holloway
Marketing and Communications Manager
SunTech Medical Inc.
507 Airport Boulevard
Suite 117
Morrisville, NC
Tel.: 1-919-654-2366
Fax: 1-919-654-2301
E-Mail: This email address is being protected from spambots. You need JavaScript enabled to view it.
Website: www.suntechmed.com