Damec Uses SunTech OEM NIBP Technology in Space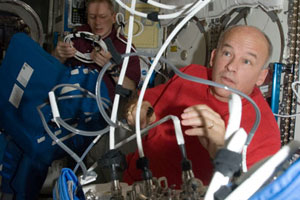 SunTech Medical has had a long association with space research. Our first ambulatory blood pressure monitor, the Accutracker, and our stress BP monitor, Tango; have been used onboard the NASA space shuttle as far back as 1988. That association continued last year through an OEM partnership with advanced technology company, Damec.
Damec develops medical and engineering instrumentation for space applications and continues to expand the application of blood pressure measurement. In late 2009, the International Space Station began using Damec's new Portable Pulmonary Function System (Portable PFS) to expand the range of respiratory and cardiovascular tests run on astronauts. Non-invasive blood pressure, developed by SunTech Medical, was among the many diagnostic features of the new Portable PFS manufactured by Damec. By studying the effects of increased blood volume on blood pressure, heart rate, cardiac output and the neuroendocrine system the Portable PFS can be used to investigate the mechanisms of cardiovascular problems like heart failure.

SunTech Medical is proud to be a part of Damec's advances in aerospace cardiovascular research instrumentation. Find out more about the company at http://www.damec.dk.
Interested in getting more SunTech news, product info, as well as
tips, tricks, and insights from BP experts?
Sign up to get fresh content delivered direct to your inbox.