Morrisville, NC — May 24, 2010 — SunTech Medical, a leading manufacturer of blood pressure monitors and OEM non-invasive blood pressure (OEM NIBP) modules, is pleased to announce the selection of their clinical-grade blood pressure technology for the new Portable Pulmonary Function System (Portable PFS) by Damec.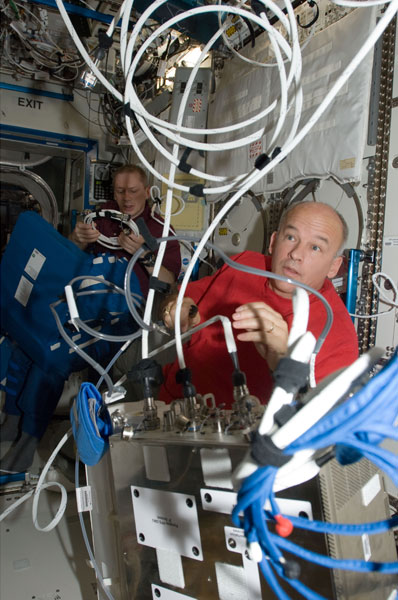 In late 2009, the International Space Station began using the Portable PFS in order to expand the range of respiratory and cardiovascular tests and experiments done on astronauts. Non-invasive blood pressure measurement, developed by SunTech Medical, was among the many diagnostic features included. The Portable PFS can be used to investigate the mechanisms of cardiovascular problems, such as heart failure, by studying the effects of increased blood volume (induced by increased salt intake) on blood pressure, heart rate, cardiac output and the neuroendocrine system.
"Damec has designed in superior technology like the SunTech OEM NIBP module to meet the stringent standards of accuracy and reliability needed in space research," states Ole Gløe-Jakobsen, Manager at Damec.
Dayn McBee, CEO of SunTech Medical adds "We're excited to continue our contribution to research and investigation in space applications. Blood pressure has been our focus for over 25 years and it's great to work with a company who shares our vision of pushing the limits of research in unique and challenging environments like the International Space Station." SunTech products have had a long association with space research with the company's first ambulatory blood pressure monitor, the Accutracker, and stress BP monitor, Tango, used by NASA in several research studies.
About SunTech Medical
For over twenty-five years, SunTech Medical has been the preeminent supplier of clinical grade blood pressure monitoring products and technologies.
Currently, more than 75 companies trust SunTech Medical's OEM non-invasive blood pressure technologies for their patient monitoring systems. SunTech produces the leading cardiac stress test blood pressure monitor and is the world's foremost manufacturer of ambulatory blood pressure monitors. Additionally, SunTech Medical offers blood pressure solutions for vital signs monitoring as well as a complete line of cuffs designed for general and specific applications. Visit http://www.SunTechMed.com for more information.
About Damec
Damec is a high technology company operating in the area of advanced medical instrumentation and other engineering fields primarily with in Space applications. Visit http://www.damec.dk for more info.