Our Blood Pressure is Rising Over Pediatric Studies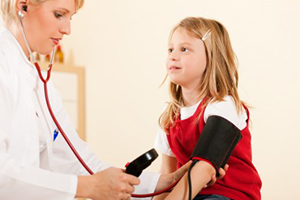 At Blog@SunTech, monitoring blood pressure on a regular basis is a common point of discussion especially as it relates to hypertension. Blood pressure measurement is an important part of overall health assessment and is typically the first piece of data collected for any office visit...with the exception of one rather important field of practice.
In a recent online post for Pediatrics, Dr. Lewis First, M.D., M.S. noted two recent studies that focused on hypertension screening of pediatric patients during doctor's visits. What these studies found was that many pediatric offices didn't check the blood pressure of children during regular office visits. Specifically, they found that, "Providers do not measure blood pressure in two-thirds of pediatric visits and one-third of pediatric preventive visits". This alarming statistic shows that while we focus on regular blood pressure monitoring for adults, we have neglected to screen for hypertension in children, whose risk factors are impacted not only by weight/obesity, but also by poor diet and exercise. If our children really are our future shouldn't we do a better job at ensuring their health? What are your thoughts on this matter?
Interested in getting more SunTech news, product info, as well as
tips, tricks, and insights from BP experts?
Sign up to get fresh content delivered direct to your inbox.