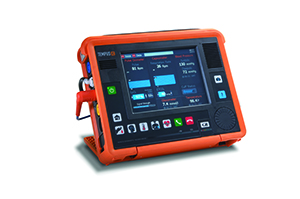 Blood pressure is everywhere nowadays. While we are used to seeing it measured in the hospital, clinic, and even at home, what about on an airplane? RDT makes this possible with their product and service called Tempus ICTM, which is used by non-medically trained staff to save lives in remote locations such as in-flight or at sea.
Airlines, commercial shipping companies, and the military use this breakthrough telemedicine solution to stabilize passengers and staff in need of acute care and give them the best possible treatment until professional medical service can be delivered on the ground. If it's hard to imagine how this works, watch the BBC story on the RDT website (Click on the label, "Medical Incident © BBC 2003").
Given the critical situations in which the Tempus ICTM is used, RDT needed medical technologies that would not only ensure safety when operated by non-medically trained staff but also be trusted by clinicians. They chose SunTech for its reliable, trusted BP technology, and in turn, RDT provides value to their customers with this innovative telemedicine solution. This cooperation is just one example of how SunTech supports its partners and their wide-ranging endeavours.
Interested in getting more SunTech news, product info, as well as
tips, tricks, and insights from BP experts?
Sign up to get fresh content delivered direct to your inbox.