10 Things To Look For When Purchasing Disposable Cuffs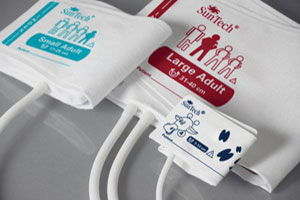 With the passing of the new healthcare law in 2010, more emphasis has been placed on reducing Healthcare Acquired Infections (HAIs) throughout acute-care hospitals. Not only does this new healthcare law have financial penalties for hospitals with the highest rates of HAIs, this law also requires mandatory public reporting of HAI rates for all hospitals in the United States.
Hospitals are currently implementing more stringent Infection Control Policies to reduce the spread of HAIs. Our current e-book details the 7 reasons why disposable cuffs should be a part of an effective infection control program. So even though you know your healthcare facility needs to use to disposable cuffs, what should you look for when selecting and purchasing these cuffs?
---
Patient Identification Line: Disposable blood pressure cuffs have shown to be an effective approach to reducing the transmission of HAIs, when dedicated for single patient use. When a patient's identification information can be written on the cuff, it verifies that no one else can use that cuff, minimizes the risk of cross contamination, and reduces the risk of acquiring a HAI in the hospital.
Cuff Standardization Program: Does the disposable cuff manufacturer or distributor offer a program to standardize your facility on one connector? Since the purpose of a disposable cuff is to be used on one patient, it is important to make sure that this cuff can be used on any monitor, anywhere in the hospital. There are a variety of connectors used on blood pressure monitors, so standardizing your hospital on one connector not only improves workflow, it reduces inventory and SKU # which lowers cost.
Patient Comfort: Disposable cuffs must be made out of soft materials and rounded edges. If the cuff is uncomfortable, patients will probably let you know and resultant patient movement during a reading may lead to multiple re-inflates or error codes.
Range of Cuff Sizes: It is extremely important to make sure that a disposable cuff manufacturer makes a full range of cuff sizes. There is a big difference in upper arm circumference between a child, a middle-aged man, and an elderly woman, so your hospital should have the proper size cuffs to use on each patient.
Color-Coding: Most cuff manufacturers color-code their cuffs to help medical professional quickly chose the right size cuff for a patient. Most manufacturers follow the same color coding schemes for each size cuff, which is shown in the table below:


| | |
| --- | --- |
| Cuff Size | Color |
| Infant | Orange |
| Child/ Child Long | Green |
| Small Adult / Small Adult Long | Light Blue |
| Adult / Adult Long | Navy Blue |
| Large Adult / Large Adult Long | Burgundy |
| Thigh | Brown |

Range Markings: A cuff must have range markers on the inside or outside (preferably both), of the cuff to indicate if the correct size is being used on a patient. Using a cuff that is too small on a patient will affect the accuracy of the measurement and the measurement will be too high. On the other hand, using a cuff that is too large on a patient will result in a measurement that is too low.
Durability: It is important that a disposable cuff is made with a durable material that will be able to withstand multiple inflations, multiple times per day since this cuff will stay with a single patient during the entire duration of their hospital stay.
Latex Free: To minimize risk of adverse reactions to latex and to promote patient safety, disposable cuffs should be free of latex.
Reliable Performance: The last thing you want to happen when you purchase a blood pressure cuff is to have it leak. Therefore, look for a cuff manufacturer that leak tests their cuffs on a regular basis.
Regulatory Requirements: All blood pressure cuffs should be designed and validated to the AHA (American Heart Association) and the AAMI (Association for the Advancement of Medical Instrumentation) standards. These standards provide recommendations for cuff sizing, life cycle of the cuff, maximum inflation, etc.
Whether you are a distributor, physician, nurse, or in materials management and responsible for purchasing blood pressure cuffs, it is good to know the features and benefits of disposable cuffs so you can make an informed decision on which brand of cuff you would like to purchase and use at your facility. If you have any additional features you would like to add to the list, please leave us a comment below.
Interested in getting more SunTech news, product info, as well as
tips, tricks, and insights from BP experts?
Sign up to get fresh content delivered direct to your inbox.