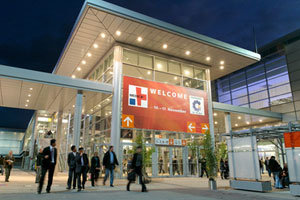 Highlighting the Importance of Clinical Grade Blood Pressure Technology
On the week prior to the Thanksgiving Holiday in the US, several personnel from SunTech Medical attended the 2009 MEDICA International Trade Fair in Düsseldorf, Germany. Over the four days of this event, (November 18 - 21), the world's largest medical trade fair hosted nearly 138,000 trade visitors from over 100 countries and 4,324 medical industry exhibitors from 60 different nations.
Each year, the MEDICA trade fair attracts decision makers from throughout the medical industry, including device manufacturers, distributors, hospital administrators and clinicians. Bringing this diverse collection of stakeholders from the medical device industry together in one place is a wonderful opportunity for us to get an immediate sense of what issues and problems are currently facing the market. A common theme heard in multiple discussions with visitors to the SunTech booth exhibit this year is the increased awareness and need for clinical grade performance in automated blood pressure (BP) technologies.
There has been a trend in recent years of what had traditionally been considered "home" BP monitors and technologies playing a larger role in the clinical monitoring and management of BP. While protocols such as the AAMI-SP10 standard recognized by the FDA exist to establish clinical accuracy for automated BP monitors, many home BP monitors have not been evaluated to these standards. Additionally, it can be a laborious process to identify the few monitors that have been validated. This makes it difficult for clinicians to establish a high level of trust that a particular BP monitor will provide professional, clinical grade performance.
Further complicating the assessment of clinical grade BP technology is the growing number of manufacturers from countries with less established regulatory guidelines. With the increasing number of options from which medical device manufacturers can select a BP technology, care must be taken to ensure the selected technology meets performance and reliability expectations and minimizes the risk of patient safety issues. Technologies developed to report accurate BP results on simulators perform well when evaluated with simulators, but often fall well short when put into practice in a clinical setting.
Whether evaluating BP technologies for OEM applications or finished BP monitoring devices, there is a certain level of trust and safety that must be established to be confident an identified solution is appropriate for clinical applications. It was clear from our discussions with other medical device manufacturers that these values are increasing in importance in response to some of the pitfalls and obstacles that face the medical market today as it relates to automated blood pressure monitoring.
If you have a comment or question related to the value and perception of clinical grade blood pressure technology, please share it with our blog readers.
Interested in getting more SunTech news, product info, as well as
tips, tricks, and insights from BP experts?
Sign up to get fresh content delivered direct to your inbox.