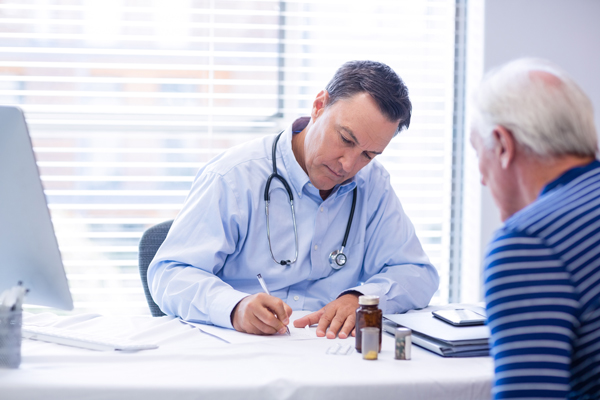 Ambulatory blood pressure monitoring (ABPM) - a procedure in which a patient wears an automatic blood pressure device for 24 hours as readings are taken every 30-60 minutes - is a widely used hypertension diagnostic tool in many countries, but not the US.
Traditionally, blood pressure (BP) measurement is largely confined to the doctor's office, using manual measurements to provide a snapshot of a patient's blood pressure and cardiovascular risk.
A snapshot can however offer a misleading look at something as variable as blood pressure, which changes minute to minute based on many internal and external factors. It is instead your average blood pressure that is linked to risk of cardiovascular disease[1]. Relying on spot blood pressure checks rather than techniques measuring blood pressure over time can lead to over-medication, leading to patients experiencing unnecessary side-effects, or under-medication, increasing risk of cardiovascular disease for patients with undetected high blood pressure.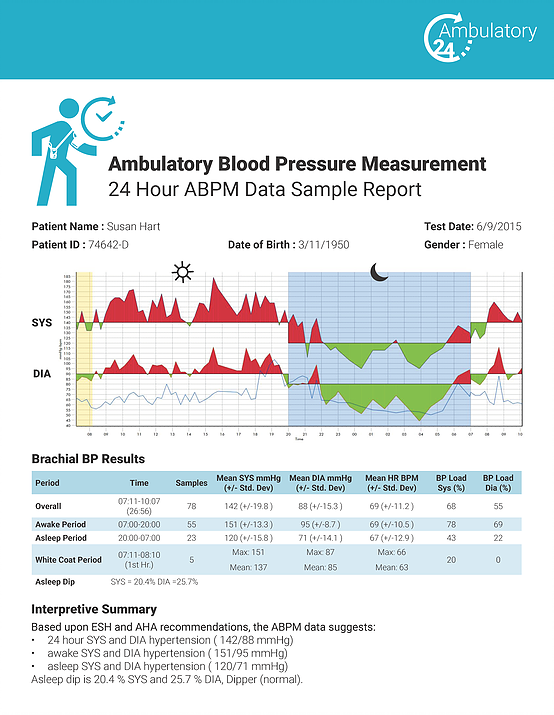 What does the ABPM device do?
It's a portable device with blood pressure cuff that takes blood pressure readings every 30 - 60 minutes for 24-hours automatically.
ABPM captures BP information when a patient is awake and while asleep.
The device is returned to a doctor and a report is generated with the patient's BP data.
Understanding Cardiovascular Risk
Continuous high blood pressure, known as hypertension, is the leading risk factor for developing a wide range of cardiovascular disease, from heart failure to stroke to chronic kidney disease [1]. Research collected by the CDC has shown:
" First heart attack: About 7 of every 10 people having their first heart attack have high blood pressure. [3]
" First stroke: About 8 of every 10 people having their first stroke have high blood pressure. [3]
" Chronic (long lasting) heart failure: About 7 of every 10 people with chronic heart failure have high blood pressure. [3]
White Coat Hypertension
While everyone experiences blood pressure spikes due to stress, activity or our environment, if the BP spikes are not continuous, there is limited impact on overall health. Problems can occur, however, when a visit to the doctor causes blood pressure to increase. Stress-induced high blood pressure at the doctor's office is so prevalent it has a medical term - White-Coat Hypertension (or White-Coat Syndrome). Studies have found up to 30% of patients at a doctor's office suffer from high BP readings caused by White-Coat Hypertension [4]. White-Coat Hypertension can cause a doctor to prescribe blood pressure medication to those that do not need it if not properly diagnosed and managed. Ambulatory Blood Pressure Monitoring (ABPM) has many advantages over in-office readings; most predominant is the ability to distinguish between high blood pressure caused by underlying hypertension and high blood pressure caused by a nervous patient visiting the doctor [5].
Nocturnal Blood Pressure Data
Newer research has also pointed to blood pressure measurements taken while asleep being a very strong indicator of cardiovascular disease risk [2]. Together with daytime readings, 24-hour blood pressure data can provide strong indications of whether blood pressure medication is required and whether prescribed medication is succeeding in controlling hypertension. Currently only ABPM is available to consistently and easily measure patient's nocturnal BP.
Ambulatory Blood Pressure Monitoring Around the World
This research has led many countries around the world to use ABPM as standard of care for every hypertension patient. Guidance in the UK requires an ABPM study to be done on any patient with high BP, while in Germany and China it is also widely used to diagnose and manage hypertensive patients [4]. Yet the US lags behind other countries in ABPM adoption with the Center for Medicare and Medicaid services not covering ABPM for the majority of hypertensive patients. Other insurers vary, but coverage remains very limited across the US. This means patients are left with a choice of paying out of pocket for a very useful and non-controversial diagnostic test or relying on more limited options like using a home BP monitor or measurements at the doctor's office or pharmacy.
This may be beginning to change, with the avalanche of new research into ABPM [6] [7] leading insurers to recognize the potential for lower costs down the line for healthier patients. Patients shouldn't hold their breath, however, with the pace of change likely to be glacial.
What Can I Do?
If your blood pressure readings are high, you can ask your GP about ABPM or visit a cardiology or hypertension specialist that will offer ABPM studies.
Find out whether your insurance company will cover ABPM for you by calling their customer service line.
Use your HSA or FSA towards an ABPM study.
For questions on ABPM contact us at This email address is being protected from spambots. You need JavaScript enabled to view it..
Interested in getting more SunTech news, product info, as well as
tips, tricks, and insights from BP experts?
Sign up to get fresh content delivered direct to your inbox.