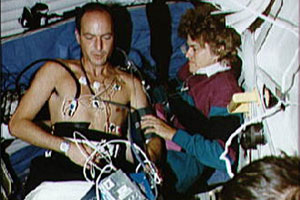 Traditionally, we try not to engage in excessive self-promotion on the SunTech Blog. But last month marked the 24th anniversary of SunTech's first journey into space, and we'd like to let our readers know about this important and interesting chapter in our history. In the pre-dawn darkness of January 12, 1986, the space shuttle Columbia blasted off from launch pad 39A at the Kennedy Space Center, carrying with it a special version of the SunTech Accutracker II ABPM device. When Columbia landed successfully at Edwards Air Force base after 98 orbits, it may have marked the end of mission STS-61C, but it was just the beginning of SunTech's foray into space-based research.
Between January, 1986 and July, 1999, the Accutracker II flew on 68 shuttle missions and even did a 115-day stint on Russia's Mir space station as part of the joint Shuttle-Mir science program in 1995. The devices provided blood pressure readings for over a dozen different biomedical experiments, which ground-based researchers then used to publish a myriad of studies within the medical community. While I haven't done the math on how many miles NASA's fleet of Accutracker II ABPM devices racked up during that time, consider that STS-61C alone covered over 2.5 million miles. I think it's safe to say that SunTech's ABPM technology is by far the most well-traveled and well-proven of any in the world.
But the final flight of the Accutracker II on STS-93 in July, 1999 didn't mark the end of SunTech's experience in space. The European Space Agency's Human Spaceflight Research Centre developed a device called the Portable Pulmonary Function System (PPFS) in cooperation with the Danish Medical Centre of Research (DAMEC). The PPFS is designed for biomedical research applications on the International Space Station, and uses SunTech's latest non-invasive blood pressure technology. The PPFS was launched to the ISS in October of 2009 and has been used for space-based biomedical research ever since.
So the future of SunTech in space looks bright. We're obviously proud that SunTech's blood pressure technology is trusted by NASA and ESA for the rigors of spaceflight, and we look forward to what the future holds for us. Might SunTech NIBP technology eventually reach the Moon or Mars? In the meantime, even though the final space shuttle flight will occur this year, the ISS is currently planned to remain in operation until 2020. Who knows how many miles SunTech's NIBP technology will rack up by then?
Photo Credit: Copyright 1991:NASA Johnson Space Center (NASA-JSC); Title: STS-43 crewmembers conduct DSO 478 using LBNP device on OV-104's middeck
Interested in getting more SunTech news, product info, as well as
tips, tricks, and insights from BP experts?
Sign up to get fresh content delivered direct to your inbox.