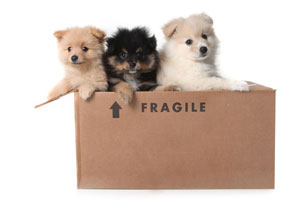 Taking a blood pressure on a companion animal is very different than what you experience at the doctor's office. You can't tell a dog or cat to sit still and be quiet throughout the entire blood pressure measurement and actually expect it to happen. It's more similar to trying to take an infant's BP, except these wiggly patients have fur!
To help maximize success and accuracy, we have created 4 new SunTech Vet20 videos that provide training on cuff selection, cuff placement, how to take BP measurements with the animal in different positions and the proper way to review results.
Our hope is that these videos will be used to train users and educate owners on NIBP best practices in order to provide the best medical care for your pet and patients.
Just click the links below to take a look!
SunTech Vet BP: Selecting the Correct BP Cuff Size
Instructional video to assist veterinary staff on choosing the correct BP cuff size for placement on the front forelimb or the animal's tail when taking BP measurements on cats and dogs.
SunTech Vet BP: Proper BP Cuff Placement
Instructional video to help veterinary staff with applying a blood pressure cuff correctly on the limb or tail of a dog or cat. This video also provides guidance on animal position and how that relates to cuff placement.
SunTech Vet20: How to Take a BP measurement on Cats and Dogs
Instructional video that covers the steps to take a BP measurement on cats and dogs with the SunTech Vet20 BP Monitor. It is assumed that the correct BP cuff size and proper cuff placement have already been performed.
SunTech Vet20: Reviewing BP Measurement Results
Instructional video that describes how to access and view BP results from the Main and Memory screens on the SunTech Vet20 BP monitor. This video also goes over how to perform selectable BP averaging as well as deleting stored BP results.
Interested in getting more SunTech news, product info, as well as
tips, tricks, and insights from BP experts?
Sign up to get fresh content delivered direct to your inbox.