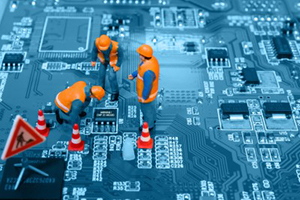 If you're a medical device developer or active in the design process, you've probably been involved with creating a list of "must have" and "nice to have" features and requirements for a new or updated medical device. Some come from market feedback, industry trends, competitor analysis, R&D and others come from medical equipment Regulatory standards. When it comes to safety and meeting regulatory standards, this is always in the mandatory column. With several deadlines looming on the horizon, meeting the latest 3rd edition standards as well as being RoHS compliant are on almost everyone's must have list when starting a new project. So whether you are developing your own NIBP or purchasing OEM NIBP modules, you now have new requirements that need to be a part of your design not only in hardware and software but also in the product's technical documentation.
A major change from "2nd edition" is the high emphasis on risk management and essential performance.
"3rd edition" loosely refers to the 3rd edition of IEC 60601-1 (general electrical medical equipment standard) and associated revisions of collateral and particular standards. A major change from "2nd edition" is the high emphasis on risk management and essential performance. Development and risk management now go hand-in-hand (more so than before) and are threaded together with the requirements in ISO 14971 – Application of risk management to medical devices. For NIBP, new standards exist which are IEC 80601-2-30 - Particular requirements for the basic safety and essential performance of automated non-invasive sphygmomanometers, ISO 81060-1 - Non-invasive sphygmomanometers — Part 1: Requirements and test methods for non-automated measurement type and ISO 81060-2 - Non-invasive sphygmomanometers - Part 2: Clinical validation of automated measurement type. Additionally, alarm requirements have been gathered into collateral standard IEC 60601-1-8 and new standards have been created for Home Healthcare (IEC 60601-1-11) and Usability (IEC 60601-1-6) that will drive NIBP design.
Several of these standards are based on previous NIBP standards but also include new requirements that must be addressed by the NIBP developer. I want to highlight eight new 3rd edition requirements specific to automated non-invasive blood pressure that may influence how you design your product. In this blog, I cover the first four.
Out of Range Values. In the past, out of range BP values could be displayed as long as they were clearly indicated as out of range. This is no longer acceptable as out of range BP values cannot be displayed at all and a technical alarm is required in all out of range cases. Out of range is defined as values outside of your published values in the instructions for use.
Nominal Indication Ranges. Mandatory systolic and diastolic ranges for neonatal and all other populations have been added. While these two ranges are quite conservative when considering just neonatal and adult populations, there are other populations that don't fit as well. For example, if your device needs a pediatric mode, it must be designed to meet the non-neonatal range which means it must include systolic values up to 230 mmHg and diastolic values up to 130 mmHg. If your company already has a pediatric mode, it may need to be updated to these higher levels which may or may not be welcomed by the market.
Service Mode. Most devices already have a service or maintenance mode due to market needs, but now it is officially a regulatory requirement as well. At a minimum, it must provide the capability to verify calibration. Related to this, unauthorized access must be restricted regarding anything that can affect the NIBP accuracy. Typically, a pressure transducer can be re-calibrated by trained personnel and it is usually done via a service or maintenance mode.
Shock/Vibration. The testing for shock and vibration has been thoroughly re-defined compared to previous standards. If you used to perform this type of testing in-house, forget about it unless your company has spent big dollars on vibration test equipment. This should shake out deficient mechanical designs before they make it to end users better than in the past.
Since I'm primarily involved with our OEM module products, I get a lot of questions about how 3rd edition affects our customers in relation to our NIBP modules. I've covered the first 4 new NIBP requirements that often come up in those discussions. Next week, I will address the second half so please check back for my exciting conclusion! In the meantime, if you have any questions about these first 4 requirements, please leave a comment below.
Continue to Part 2 of "New 3rd Edition Standards for NIBP"
Interested in getting more SunTech news, product info, as well as
tips, tricks, and insights from BP experts?
Sign up to get fresh content delivered direct to your inbox.