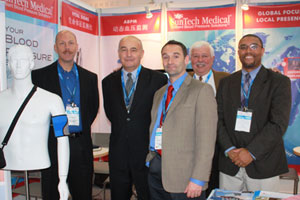 Earlier this year we wrote a blog post about the similarities of current healthcare challenges in both China and the US. Of particular note was the fact that Hypertension is the leading cause of premature deaths in China. We recently had an opportunity to meet and speak with many folks involved with the delivery of healthcare in this rapidly evolving market at the China Medical Equipment Fair (CMEF) held in Shenzhen April 18 - 21, 2010.
Including SunTech Medical, this year's CMEF exhibition had over 2,000 companies representing 170 different countries. With more than 50,000 hospital buyers, medical equipment distributors and manufacturers in attendance, there was ample opportunity to discuss and learn more about the increasing focus on improving the affordability, accessibility and quality of healthcare. Appropriate measurement and monitoring of blood pressure (BP) certainly plays a large role in this effort and was the point of many discussions held at the SunTech booth.
Many of our conversations focused on the role of ambulatory blood pressure monitoring with automated in-office blood pressure measurement and the benefit of standardizing the methods by which BP is assessed, particularly in regions that have not always performed BP monitoring as a routine practice. In many rural and remote regions of the country, there is significant investment in developing an entirely new basic medical service and primary care network where no previous one existed.
It was exciting to speak to individuals who were preparing to implement some of these BP monitoring tools and techniques in segments of the population that have not had the access to them before. SunTech Medical is hopeful that by providing these kinds of tools for measurement and management of BP that a significant contribution will be made to improving both awareness of hypertension and patient outcomes in China.
Interested in getting more SunTech news, product info, as well as
tips, tricks, and insights from BP experts?
Sign up to get fresh content delivered direct to your inbox.