A recent Canadian blood pressure study discovered that high blood pressure does not directly correlate with the rising obesity rate in pediatric patient populations. Contrary to expected research outcomes, while most pediatric patients (ages 6-19) with high blood pressure were obese, not all overweight adolescents (a mere 3%) suffer from high blood pressure.
Interestingly, researchers were able to reduce false positive high blood pressure readings by having the patients' blood pressure measurements taken while they were alone and out of a typical clinical environment or in the presence of a nurse or clinician. This phenomenon is known as "white-coat hypertension."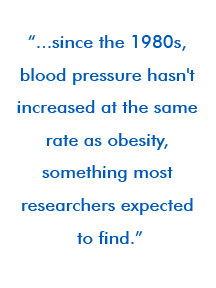 While the study protocol was certainly appropriate, it would have been interesting to see if the use of 24 hour ambulatory blood pressure measurement would have also provided a means to identify both white-coat and masked hypertension in this patient population. ABPM certainly would have given the researchers more in-depth information on the overall blood pressure profile for the individual pediatric ABP patients and more data points from which to work.
In the end, the fact remains that obesity increases the risk of hypertension in children, as well as adults, and also makes them susceptible to other weight-related health complications. Incorporating ABPM as a routine test for the diagnosis and management of hypertension in this high-risk population would seem to make a lot of sense.
Interested in getting more SunTech news, product info, as well as
tips, tricks, and insights from BP experts?
Sign up to get fresh content delivered direct to your inbox.