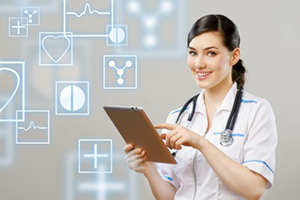 When thinking about the healthcare industry it is easy to become overwhelmed due to the sheer volume of what it encompasses and its ever-evolving nature. One continuing focus and challenge that cuts across the entire industry is the management of healthcare information, including BP measurement and other vital signs data. I had the opportunity earlier this month to attend the 2013 Healthcare Information and Management Systems Society (HIMSS) conference and exhibition held in New Orleans, LA which is entirely dedicated to this topic. Specifically, the HIMSS show brings together professionals from the healthcare industry with a goal of leveraging information technology (IT) and management systems for the improvement of healthcare delivery.
HIMSS is a testament to the importance of this topic in that it attracted 34,696 total attendees and 1,158 exhibiting companies. Though there was a strong focus on data management, the overarching theme of this year's show was systems and device interoperability which seems to be the latest challenge HIMSS attendees are working to solve. Many sessions touched on or focused completely on one or more aspects of interoperability. Additionally, attendees could visit The Interoperability Showcase, the Intelligent Hospital Pavilion, and the Meaningful Use Experience to view demonstrations of real-time user experience with device interoperability and data management.. These interactive demonstrations and exhibitions included a wide range of BP measurement devices varying from several home BP devices to public kiosk screening systems, thus highlighting the importance of remotely captured blood pressure measurement in health care management.
Overall HIMSS 2013 demonstrated to me that there is an abundance of healthcare information in existence but we still struggle with the best way to manage, access and share that data for achieving the best patient outcomes. The ultimate focus and driver for innovation is having the right data, in the right place, at the right time. This continues to be a focus for us at SunTech Medical and I am anxious to see how things advance at next year's HIMSS show. See you in Orlando!
Interested in getting more SunTech news, product info, as well as
tips, tricks, and insights from BP experts?
Sign up to get fresh content delivered direct to your inbox.