Physician Acquired Blood Pressure Measurement is Higher than Nurse Acquired BP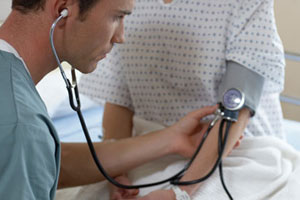 There are several different types of mild and/or episodic hypertension that ambulatory blood pressure monitoring (ABPM) can help a physician diagnose. However, the summary data that ABPM provides, the average daytime or 24-hour blood pressure as two examples, provides significantly different information than the one or two measurements taken in a clinic. Although this difference is one of the reasons that ABPM correlates better to cardiovascular outcomes than in-clinic BP, making it the gold standard for BP measurement, there are few detailed guidelines on the targets or thresholds for ABP like there are for in-clinic BPs like the popular 120/80 as a threshold for normal BP and 140/90 for hypertensive.*
A recent study in the British Medical Journal attempts to rectify this situation and improve the utility of ABPM. It highlights findings for appropriate thresholds for daytime measurements. As expected, these targets were lower than in-clinic values. However, another finding was less obvious. In an Australian study of over 1600 patients, measurements taken by doctors were higher than those taken by trained staff like nurses.
Do you get more nervous around doctors than nurses?
*As recommended by the American Heart Association
Interested in getting more SunTech news, product info, as well as
tips, tricks, and insights from BP experts?
Sign up to get fresh content delivered direct to your inbox.