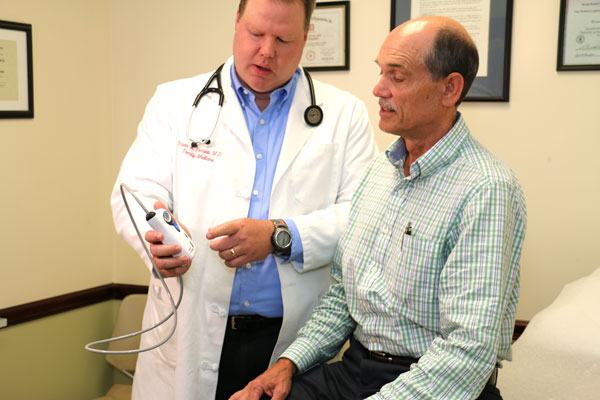 Research has proven that ambulatory blood pressure monitoring (ABPM) is the best way to determine true blood pressure available to physicians today. Results from an ABPM device will always 1 provide a level of insight unavailable with other forms of blood pressure measurement. However, there are eight situations in which ABPM is especially useful in providing accurate readings to properly diagnose hypertension.
#1: Office or White Coat Syndrome
This phenomenon is exhibited by patients who have elevated blood pressure measurements only when they are in the physician's office. Upon their return to their normal environment (home, work, etc.), their pressure returns to normal.
Many physicians rely on the home or self-measurement method to identify the phenomenon. However, often the devices that patients use are not clinical-grade or the patients are unable to perform the measurement correctly due to lack of training.
This is an excellent application for ABPM. ABPM eliminates the need for a home device, training of the patient, and affords the physician more data points (including sleep) from which to develop an accurate assessment of the patient's condition.
#2: High Normal Blood Pressure with Target Organ Involvement
This is the opposite of "White Coat". In this case the patient's blood pressure is borderline or high normal in the office. In addition to the high normal blood pressure, there is evidence of target organ damage (e.g., abnormal renal function, left ventricular hypertrophy, etc.). However, upon return to their normal environment the blood pressure is elevated. This can be due to physical activity or mental stress (e.g., work-related stress).
ABPM is effective in identifying these types of patients, as well as the activity or environment that induces the high blood pressure.
#3: Resistant Hypertension
Resistant hypertension is often diagnosed when multiple anti-hypertensive medications fail to control high blood pressure as measured in the clinic or office. Here again, the office pressure may not be representative of the pressure over the course of the entire day. ABPM can demonstrate the degree and duration of anti-hypertensive agents in these types of patients.
#4: Episodic Hypertension
Episodic hypertension may be caused by certain anxiety syndromes and can be confused with pheochromocytoma (a disorder of adrenergic excess due to a tumor, in which the pressure is consistently elevated). Careful matching of patient activity diaries with ABPM data often aids in the diagnosis of episodic hypertension.
#5: Evaluation of Hypotensive Symptoms
Some anti-hypertensive drug therapy may induce a hypotensive (low blood pressure) condition. This may go undetected due to relatively normal office readings after medication indicating the medication is controlling the hypertension. However, upon leaving the office the patient becomes hypotensive. ABPM can help the physician recognize the extent of over or under treatment.
Also, patients with autonomic dysfunction have a unique ABPM profile. E.g., hypotensive episodes with change in posture, low blood pressure during awake hours, supine hypertension even while asleep, abrupt and large reductions in BP after meals, and little or no variations in heart rate in association with falls in BP. Carotid sinus syncope and pacemaker syndromes can be more easily assessed when ABPM and ECG monitoring are performed simultaneously.
#6: Assessment of Anti-Hypertensive Drug Therapy
It is impossible to assess the duration of anti-hypertensive activity accurately with simple, casual office measurements. Many physicians take frequent casual BP measurements or have patients take doses in outpatient clinics and wait in the facility for peak effects and return for trough measurements. ABPM is a useful clinical tool that is unobtrusive and easy to use in this application.
#7: Hemodialysis Volume Independent Patients
Many hemodialysis patients are thought to have elevated BP due to inadequately controlled volume. ABPM can assist in identifying those patients who are volume independent hypertensive. In addition, hemodialysis patients with chronic hypertension are sometimes poorly controlled by anti-hypertensive drugs. The proper assessment of hypertension in the hemodialysis patient requires multiple measurements of BP along the dialysis cycles. ABPM can provide a useful tool to the nephrologist in managing the hypertensive hemodialysis patient.
#8: Hypertension During Pregnancy
ABPM can provide useful blood pressure information in pregnant women. 24- hour blood pressure is significantly elevated during weeks 36-38 when compared to weeks 18-22 and 30-32 of gestation. ABPM can monitor this phenomenon and assist the physician in reliably evaluating the BP during pregnancy.
ABPM can also identify the ''White Coat" patients from the true hypertensive patients and provide a useful tool for serial BP measurements in those patients with high-risk factors or actual preeclamptic (a toxemia of late pregnancy, characterized by hypertension, albuminuria, and edema) conditions.
Do you have experience using ABPM in any of these situations? Let us know in the comments below.
Interested in getting more SunTech news, product info, as well as
tips, tricks, and insights from BP experts?
Sign up to get fresh content delivered direct to your inbox.