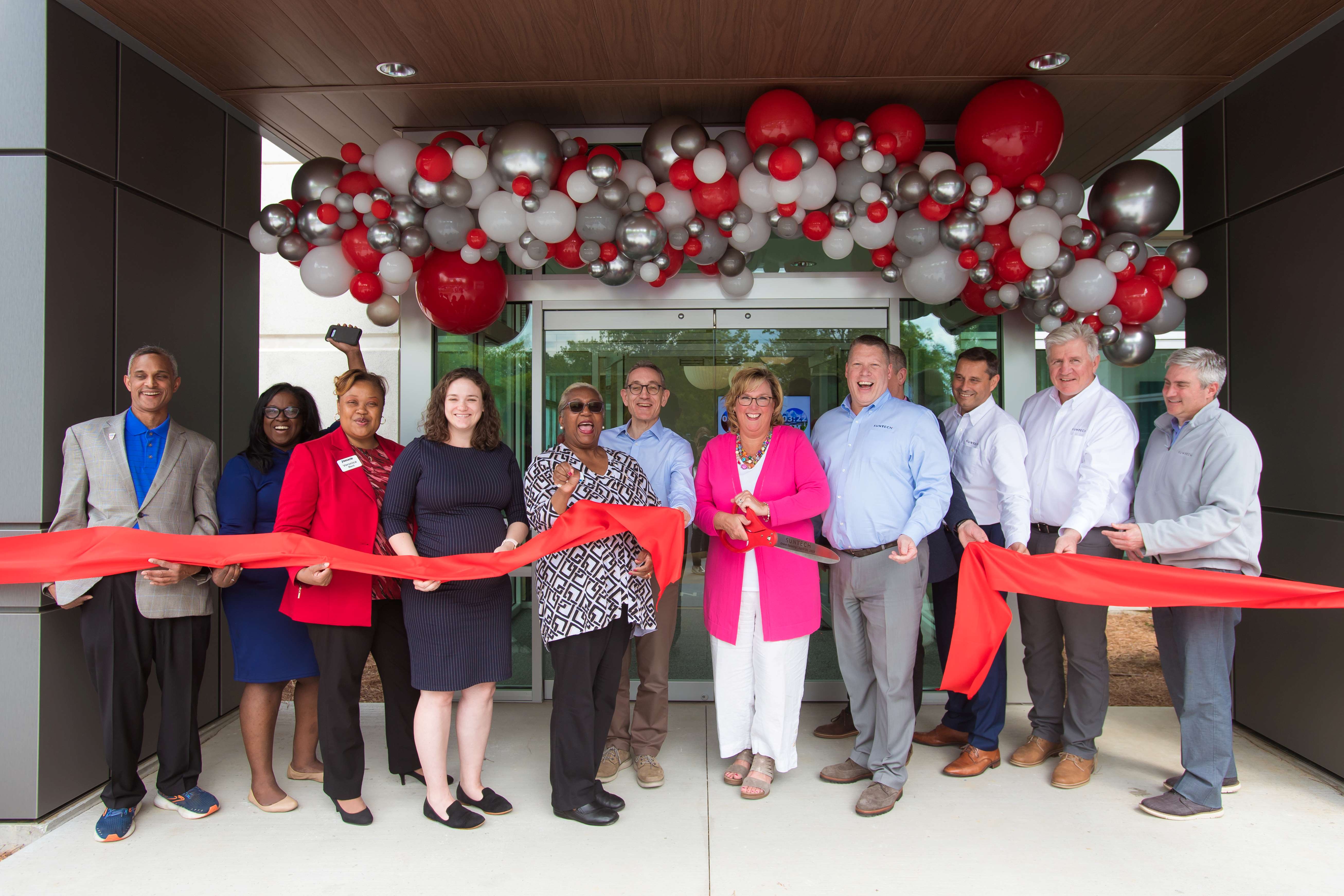 Morrisville, NC (May 3rd, 2023) SunTech Medical, a leading manufacturer of clinical-grade blood pressure monitoring products and technologies, held a grand opening and ribbon-cutting ceremony of their new headquarters and US production facility in Morrisville, North Carolina, on April 25, 2023.
The ribbon-cutting event marked SunTech's continued growth and dedication to providing advanced blood pressure monitoring solutions. SunTech hosted many guests at their grand opening, including current and former SunTech employees from around the globe, distributors, suppliers, representatives from Halma plc (SunTech's parent corporation), as well as Presidents and Managing Directors from other Halma companies.
The event commenced with a series of remarks by Rob Sweitzer, President of SunTech, Lisa Boyles, Vice President of Talent & Strategic Programs at SunTech, Steve Brown, Halma Healthcare Sector CEO, and Rose Cornelious, Morrisville Chamber of Commerce President.
"Along with more space, a key consideration when designing the new facility was to provide significantly better amenities for employees," said Rob Sweitzer. "With our new facility, we will attract and retain top talent, and we are poised to continue our growth trajectory."
After the ribbon cutting ceremony, attendees were invited to stay for refreshments and tours of SunTech's brand new facility. These guided tours showcased SunTech's state-of-the-art research and development lab, production floor, clinical lab, conference rooms, offices, work cafes, outdoor seating spaces, and the fitness center.
SunTech Medical recognizes the unwavering support of its employees, customers, key suppliers, service providers, and its parent corporation, Halma, in achieving this milestone. SunTech would also like to extend a big thank you to their guest speaker, Rose Cornelious, for helping to commemorate the event.
About SunTech Medical, Inc.
Headquartered in the United States, in North Carolina's Research Triangle, SunTech, a Halma company, is globally focused on the continual advancement of blood pressure monitoring products and technologies for the benefit of their customers, patients, employees, and shareholders.
SunTech's passion is creating advances in clinical-grade blood pressure technology and providing innovative products that improve the quality of patient care. Since the early 1980s, SunTech's sole focus, every day, has been on developing and improving leading-edge technology to obtain the most accurate and reliable blood pressure measurements. For more information, visit https://SunTechMed.com.
It's Quality. It's our Legacy. It's The Difference in Clinical Grade®.
Media Contact
Marissa Bellard
Marketing Manager
This email address is being protected from spambots. You need JavaScript enabled to view it.