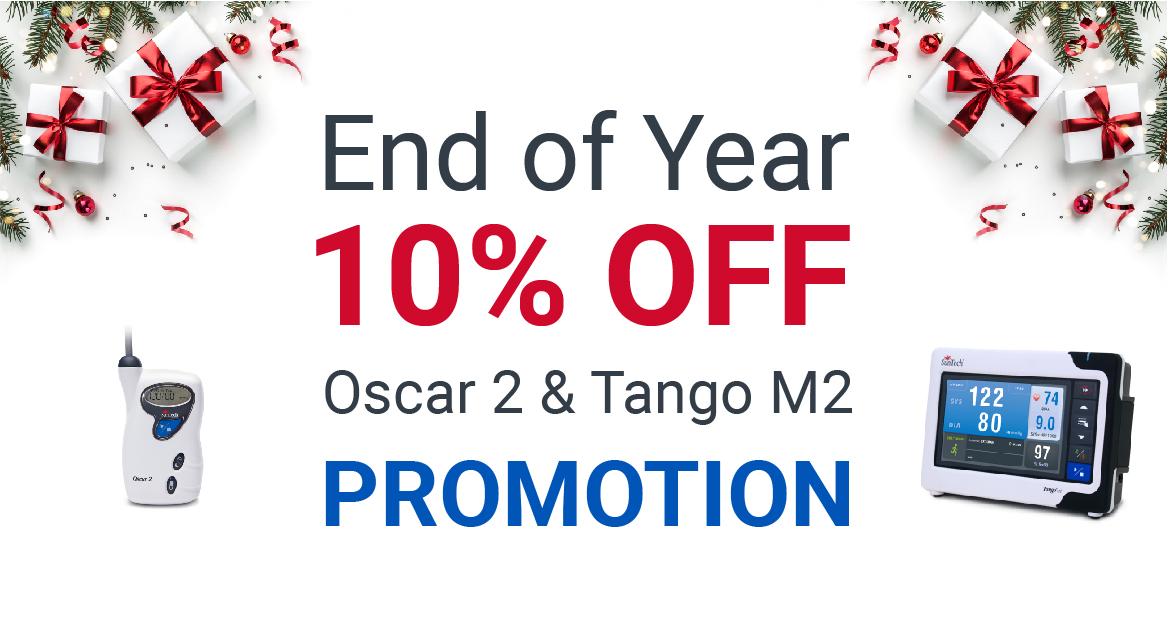 Morrisville, NC, December 21, 2020
Take advantage of year-end savings!
SunTech Medical is excited to offer customers a special End of Year Promotion.
Take 10% off list price of the Oscar 2 and Tango M2 Monitors.
Promotion ends soon - place your order by 12/31/2020!
Want to learn more?

This email address is being protected from spambots. You need JavaScript enabled to view it.
The Oscar 2™ ABPM

The Tango M2 Stress Test Monitor

Walk. Talk. Measure.

The Oscar 2™ Ambulatory Blood Pressure Monitor from SunTech Medical® is the gold standard in 24-hour ambulatory blood pressure monitoring (ABPM). By providing valuable diagnostic information that in-clinic and home blood pressure monitoring systems are incapable of measuring, the Oscar 2 system delivers a patient-focused solution with unsurpassed comfort, data reliability and confidence.

Features

SunTech Motion Tolerance
Clinical Validations
Patented Orbit ABPM Cuffs
AccuWin Pro 4 Software

Don't miss a beat.

During stress testing, reliability and accuracy go hand-in-hand. Recording an accurate and reliable BP measurement at the correct intervals during a test can be difficult for clinicians. That's why the Tango M2 can be programmed to take an accurate reading, at the proper time, during each stage of a stress test, thus increasing reliability of BP measurements and test results.

Features

Automate BP Process
Stat Mode
Field Upgradeable
Optional SpO2
Valid for orders placed on or before 12/31/2020. Cannot be combined with any other promo or discount. US end user, list orders only.