CT40 passes BHS Protocol and AAMI/ ISO Standard for BP Measurements in Adults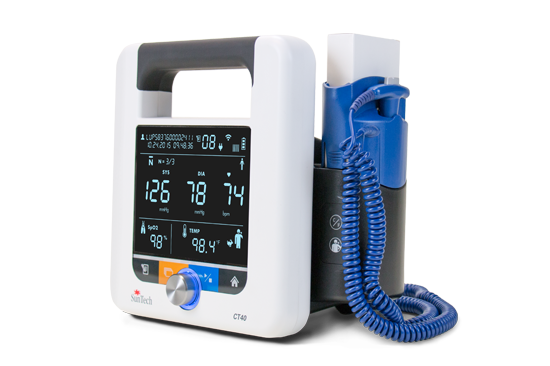 Morrisville, NC (September 21st, 2017) – The CT40 spot-check device from BP monitoring specialist SunTech Medical has received third-party validation for blood pressure performance as specified by the British Hypertension Society and the Association for the Advancement of Medical Instrumentation/ International Organization for Standardization.
The SunTech CT40 provides clinical-grade, automated spot-check measurements of blood pressure and other vital signs for patients in hospitals, clinics, ambulatory care, long-term care and low-acuity hospital departments. A modular design allows clinicians to easily customize the device in the field; adding thermometry, Sp02 and Wi-Fi based on the unique needs of the patient and facility.
The study, conducted independently by Dr. Hernan Polo Friz and the staff at Vimercate Hospital (Vimercate, Italy) determined that the CT40 achieved an A/A grade according to the 1993 BHS protocol, and fulfilled requirements set by the AAMI/ ISO standard 81060-2:2013. The study confirmed the accuracy of oscillometric BP measurements taken by the CT40, and recommend it for BP measurement in adults.
"This study validates the accuracy and reliability of our BP technology," said SunTech Medical president Rob Sweitzer. "We are proud that our CT40 has received a third-party validation for both BHS and AAMI/ ISO standards."
Full study results will be published in the October issue of Journal Blood Pressure Monitoring, and on the journal's website here.
For more information on SunTech Medical's full line of clinical-grade, non-invasive blood pressure products and technologies, call 1.800.421.8626 or visit www.suntechmed.com.