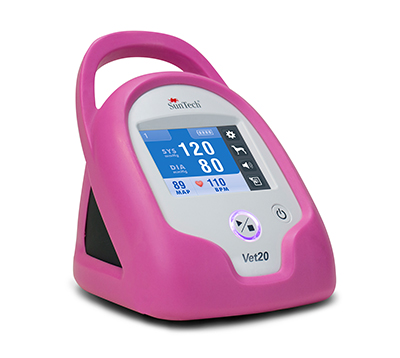 Vet20 uses animal-specific algorithm for accurate BP with no shaving or gel
Morrisville, NC (February 2, 2017) – Blood pressure device specialist SunTech Medical will display its Vet20 automated veterinary blood pressure monitor at the 2017 North American Veterinary Community exhibition. The show takes place at the Orange County Convention Center – West Building (Orlando, Fla.) from February 4-8. Visitors to the company's booth 3523 can view hands on demonstrations of the Vet20.
The Vet20 uses an animal-specific algorithm to take reliable, accurate measurements on awake or sedated companion animals, with no shaving or gel required. The device replaces the standard Doppler technology by providing results quickly and easily. To manage nervous animals, the monitor is extremely quiet with the option to turn off alarms and audible indicators.
The Vet20's user-friendly touch screen interface requires little to no training to obtain accurate results. The device is battery or A/C-powered and small enough to carry between exams rooms, making it convenient for staff.
For more information on SunTech Medical's full line of clinical-grade, non-invasive blood pressure products and technologies, call 1.800.421.8626 or visit www.suntechmed.com.
SunTech Medical, a Halma company, has been the preeminent supplier of clinical grade blood pressure monitoring products and technologies for nearly 30 years. More than 80 companies trust SunTech Medical's OEM non-invasive blood pressure solutions for their patient monitoring needs. SunTech Medical produces the leading cardiac stress test blood pressure monitor and is the world's foremost manufacturer of ambulatory blood pressure monitoring products. SunTech Medical also offers solutions for in-office blood pressure monitoring as well as a complete line of blood pressure cuffs designed for general and specific applications.
Press contact:
Elliott Holloway
Marketing and Communications Manager
SunTech Medical Inc.
507 Airport Boulevard
Suite 117
Morrisville, NC
Tel.: 1-919-654-2366
Fax: 1-919-654-2301
E-Mail: This email address is being protected from spambots. You need JavaScript enabled to view it.
Website: www.suntechmed.com