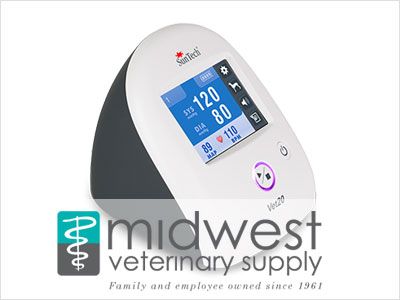 Raleigh, NC (October 7th, 2015) - SunTech Medical, the industry leaders in clinical-grade blood pressure technologies, has appointed Midwest Veterinary Supply (Lakeville, Minn.) as a distribution partner for the SunTech Vet20 BP monitor in the United States. The SunTech Vet20 is an automated BP monitor, specially designed for veterinarians and other clinicians to take fast, simple and accurate measurements on awake or sedated companion animals with no shaving required
The SunTech Vet20 uses a BP algorithm specifically developed for animals in collaboration with experts at a leading vet school to deliver reliable, motion-tolerant results without audible alarms that frighten animals. With SunTech's Advantage™ VET oscillometric technology, the monitor provides systolic, diastolic, heart rate and MAP BP values faster and more accurately than other devices using Doppler. The monitor may be powered by either battery or A/C adapter and is small enough to carry between exam rooms, making it convenient for both patients and providers.
"Midwest is pleased to be aligned with one of the pioneers in blood pressure technology - SunTech Medical." said Midwest Equipment Manager, Sandy Evans. "The Vet20 BP monitor has been tested and demonstrated that it is capable of accurately monitoring the blood pressure of animals from a small kitten all the way up to a Great Dane. It is a good quality device at a fair price."
For more information about Midwest Veterinary Supply or the Vet20 BP monitor, visit midwestvet.net or call 1.800.328.2975.
For more information about SunTech Medical and its full line of clinical-grade, non-invasive blood pressure products and technologies, call 1.800.421.8626, email This email address is being protected from spambots. You need JavaScript enabled to view it. or visit www.suntechmed.com.
Midwest Veterinary Supply has over 50 years of experience providing high performing veterinary products and business tools that build a practice's profitability and success. It is a full-line distribution leader serving veterinary practices in over 35 states with quality service and products from major manufacturers for companion, equine and large animals.