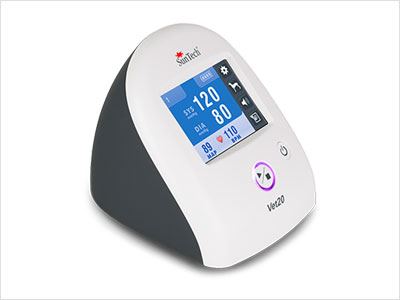 Motion-tolerant technology delivers accurate results
Raleigh, NC (April 22, 2015) - SunTech Medical, the industry leader in blood pressure (BP) monitoring products and technologies, introduces the SunTech Vet20 - an automated BP monitor that allows veterinarians and other clinicians to take fast, simple and accurate BP measurements on awake or sedated companion animals. The monitor uses a BP Algorithm specifically developed for animals by experts at a leading vet school to deliver reliable, motion-tolerant results without audible alarms that frighten the animals. Small enough to carry between exam rooms, the battery-operated SunTech Vet20's intuitive touch screen interface is easy to use with little to no staff training
The SunTech Vet20 performs oscillometric BP readings with SunTech's Advantage™ VET technology for faster and more accurate readings than other devices such as Doppler, which can take up to 10 minutes to deliver results. The SunTech Vet20 provides systolic, diastolic and MAP BP values as well as heart rate, and only requires the simple application of a BP cuff. Other products give only Systolic values and often require shaving the fur at the measurement site.
Even when powered off, the SunTech Vet20 maintains measurement data for up to 50 measurements. Users can also select specific readings from the device memory, and perform selectable BP averaging right on the touch screen.
Veterinarians who have already used the device in their practice have been pleased with the simplicity, performance and accuracy of the new BP monitor. Dr. Erik Strunck at CareFirst Animal Hospital (Raleigh, NC) states, "The SunTech Vet20 BP monitor has a vastly superior user interface to other monitors I've used." Strunck also recognized the benefit of SunTech's superior motion-tolerant technology. "Readings are more accurate with fewer motion difficulties and error messages. I would highly recommend this unit."
To purchase the SunTech Vet20 or for more information on SunTech Medical's full line of clinical-grade, non-invasive blood pressure products and technologies, call 1.800.421.8626 or visit www.suntechmed.com.