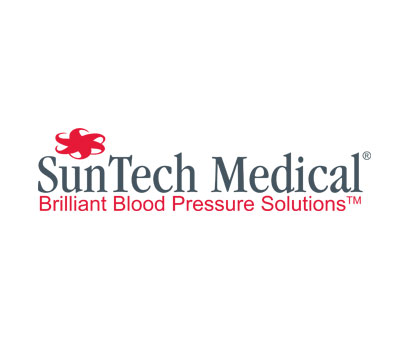 Morrisville, NC (07/28/2014) – SunTech Medical, the global leader in clinical-grade, non-invasive blood pressure measurement solutions, has acquired King's College London's central blood pressure technology as well as the assets of Centron Diagnostics Ltd., including the clinically-validated cBP301 Central Blood Pressure Monitor. This acquisition serves to further SunTech Medical's commitment to deliver a full range of market-leading blood pressure measurement technology and products to our customers and partners.
"Central blood pressure measurement is quickly emerging as an important diagnostic tool to compliment traditional brachial blood pressure assessment," said Dayn McBee, CEO of SunTech Medical.
"We look forward to incorporating this technology into our products and utilizing it to further enhance our platforms in the future."
Current research indicates there can be significant clinical differences between central blood pressure and brachial blood pressure readings, ultimately impacting how patients are diagnosed and treated. Further, central and brachial blood pressure have been shown to respond differently to anti-hypertensive medication and other pharmacologic treatments. There is also new evidence showing that central blood pressure may be more relevant than brachial measurements when predicting target organ damage or cardiovascular events.
Given the significance and potential impact of central blood pressure measurement, SunTech Medical recently partnered with AtCor Medical and announced the development of a new ambulatory blood pressure monitoring product, the Oscar 2™ with SphygmoCor® technology. Highly anticipated by the market, this product offers central blood pressure measurement and other pulse wave analysis metrics over a 24-hour period. SunTech and AtCor will continue to jointly market this product under a global alliance agreement and both remain strongly committed to their partnership.
"Interest and application of central blood pressure measurement in a wide range of applications is growing rapidly, specifically for better prediction of response to treatment," McBee added. "Through these types of partnerships and acquisitions, we aim to offer all of our stakeholders the tools and technology needed to leverage the latest developments in hypertension treatment and cardiovascular risk assessment."
For more information on SunTech Medical's full line of clinical-grade, non-invasive blood pressure products and technologies, call 1.800.421.8626 or visit www.suntechmed.com.
SunTech Medical, a Halma company, has been the preeminent supplier of clinical grade blood pressure monitoring products and technologies for nearly 30 years. More than 80 companies trust SunTech Medical's OEM non-invasive blood pressure solutions for their patient monitoring needs. SunTech Medical produces the leading cardiac stress test blood pressure monitor and is the world's foremost manufacturer of ambulatory blood pressure monitoring products. SunTech Medical also offers solutions for in-office blood pressure monitoring as well as a complete line of blood pressure cuffs designed for general and specific applications.
Press contact:
Elliott Holloway
Marketing and Communications Manager
SunTech Medical Inc.
507 Airport Boulevard
Suite 117
Morrisville, NC
Tel.: 1-919-654-2366
Fax: 1-919-654-2301
E-Mail: This email address is being protected from spambots. You need JavaScript enabled to view it.
Website: www.suntechmed.com