MORRISVILLE, N.C.—SunTech Medical and American Diagnostic Corporation announced today the launch of the ADView spot-check device. The ADView is a completely modular spot-check device capable of measuring blood pressure, temperature, and pulse oximetry in multiple clinical settings.
"We admire the way ADC brings value to its customers," said Dayn McBee, CEO of SunTech Medical. "Our companies have a similar dedication to providing superior quality, service, and value. I think the ADView spot-check device embodies that commitment."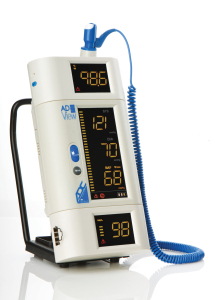 The modularity of the ADView provides a level of flexibility unique for spot-check devices. The unit can be purchased in one of several configurations, and can be upgraded with additional parameters later—without having to return the device. There are also three mounting platforms available: wall, tabletop, or mobile stand.
"We recognized the customer need for clinical-grade, automated BP and vital signs measurements that are easy to use and affordable," said Marc Blitstein, President of ADC. "The ADView was created to meet that need, and we look forward to offering SunTech's superior technology to our customers."
About SunTech Medical
For over twenty years, SunTech Medical has been the preeminent supplier of clinical grade blood pressure monitoring products and technologies.
More than 75 companies trust SunTech's OEM NIBP technologies for their patient monitoring systems. SunTech produces the leading cardiac stress test blood pressure monitor and is the world's foremost manufacturer of ambulatory blood pressure monitors. Additionally, SunTech offers blood pressure solutions for in-office blood pressure as well as a complete line of blood pressure cuffs.
About American Diagnostic Corporation
American Diagnostic Corporation has been a world leader in core diagnostic products for over a quarter century. The company partners with a select group of the world's finest ISO 9000 subcontractors to produce nearly 2,000 different proprietary components to exacting standards. Components are inspected, assembled, and packaged into over 6,500 different products at our Hauppauge, NY facility.
ADC products are marketed under many brands, and are also manufactured under OEM (original equipment manufacturer) arrangements. ADC also private labels for over a dozen of the world's leading manufacturers and distributors in the acute care, alternate site, nursing, extended care, student, and EMS markets. In fact, ADC is the largest private label supplier of stethoscopes and blood pressure instruments in the United States.